Come to this page for information about upcoming murder mysteries at Silver Heart Inn. If you've never been to one of our murder mysteries, here is what to expect.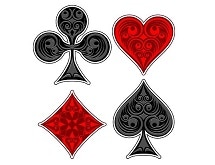 April Murder Mystery:
Quicker than the Eye – April 21st, 5:30 PM
He was a prestidigitator beyond compare. The Amazing Roberto Clappini built a reputation for performing card tricks that could deceive even the most well-trained eye. His latest trick was proclaimed to be one that would take the art of sleight of hand to a new level.
But after last night's performance at Finger Lake, Clappini was found dead. Fortunately, the authorities have a clue about the identity of the murderer. Or, to be more accurate, a handful of clues.
Before he died, Clappini had the strength and wherewithal to pull several cards from the deck and attempt to tell authorities what happened. It will take skill and investigative expertise to divine the meaning of the clues and identify the perpetrator of the crime.
Admission includes:
– Participation in Murder Mystery
– Gourmet Dinner

Overnight stay option. Rooms are limited and on a first-come-first-served basis. Two guests, dinner, room, breakfast and Mystery tickets included. Please call for assistance with this special package reservation.
Tickets for the next Mystery are available online

here

.
June Murder Mystery:
Hulas and Homicide – June 9th, 5:30 PM
She was known as the Hula Honcho. Winnie Waheli was the head judge at the annual hula contest on Kikiwai Beach. Once regarded as the most accomplished dancer in Hawaii, Winnie's career abruptly ended two decades ago when an injury prevented her from ever again competing professionally.
Since her injury, Winnie has organized the hula event at the Kikiwai Queen Hotel each year. She made a point of meeting the competitors and talking to the press, all the while ensuring that she was the center of attention.
Tonight would have been the night that this year's hula extravaganza took place. But all is not well in paradise. This morning, her lifeless body was found on the beach, apparently the victim of foul play.
Who would dare end the career of the maven of movement? Could someone have plotted the death of the darling of divatude? It will take a unique perspective and expert investigative skills to identify the guilty party.
August Murder Mystery:
Death Ahoy! – August 11th, 5:30 PM
Stormy clouds on a sunny cruise!
September Murder Mystery:
Murder on the Petulant Express – September 8th, 5:30 PM
Murder on a train in 1937. Motive, means and a locomotive!
October Murder Mystery:
The Cat Screamed at Midnight – October 6th, 5:30 PM
Murder in an English castle, 1936.