A big emphasis in the lodging industry nowadays is on food and exercise options.  I completely understand their importance to the chronic traveler.  After all, it's a lot of eating out on the road, in airports, and it makes it very difficult to eat and rest well.  Simply stated, it's hard on the body.
We have had pleasure travelers inquire about the same kinds of food and exercise needs.  They want a healthier menu option, smaller portions, and directions to the local gyms.  They aren't just the younger generation, either.  It seems that we are all getting smarter about our health and fitness.  I think that is really great.  After all, we only get one body and one life, and we do want to live it to the fullest.
So, what does that mean for Silver Heart Inn?  How are we meeting the needs of those guests?  What can we do for you if you are watching your diet or would like to have exercise options?
I have given quite a lot of intentional thought to this.  How can I provide an extraordinary experience for my guests?  First of all, let's take a look at the menu.
Food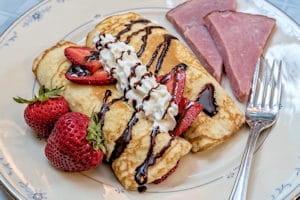 Bed and Breakfasts usually have a signature dish.  That is wonderful!  It sets them apart from the others.  But I have taken it just a step higher.  We have a seasonal menu offering.  This is a great deal of fun, changing it up, and trying new things!  What does that mean?  I choose to cook what is fresh, in season, and try to attend our local farmers' market weekly to purchase locally produced food.  I look for organic foods if they are available.  Because I ran an organic egg, chicken, and dairy farm for seven years, I have a lot of knowledge in this area.  We sold our fresh products to a local market right here in the Independence / Kansas City area for over three years.  Fresher ingredients mean better nutrition, superb flavor, and that equals a better you!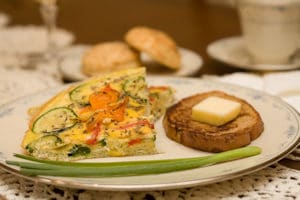 Did you know that you could stay here for a whole week and never eat the same thing twice?  (We certainly do honor requests for seconds!)  I vary the menu while you are here from carb to protein days.  What?  You have food allergies, diabetes, need gluten free, or you are vegetarian.  No problem, I have options for you as well.  I can serve healthful teas that are caffeine free.  We are glad to accommodate.
Exercise
Now, about that exercise!  If you prefer your morning yoga, we have mats, blocks and straps on hand right here at the Inn.  Check out a DVD to watch in the privacy of your room.  Prefer to have a live class? Just down the street, we have a Yoga and Pilates studio.  We would be glad to give you a class schedule or make arrangements to use this gorgeous facility.  Also, down the road is a gym with equipment in the Sermon Center.  You could even run there to warm up.  We have a great location for all your fitness needs.
Maybe you are a runner,  just needing that morning jog to "get your game on"  for the day.  We are in a great running area.  Not only is the neighborhood easy to navigate, the historic cemetery just down the road has some varied slopes for a better workout.  (Make sure you stop by to say hello to Napolian B. Stone, original builder of our home.)  We have beautiful parks in Independence and also the Little Blue Trace trail for a longer run.
Cyclists have really enjoyed the trails here in Independence as well as easy access to many in the Kansas City area.  Our location puts you at the heart of all the wonderful attractions.  I am even networking with a local bike shop for rentals.  Give me some feedback on that.  I would like to hear your thoughts.
Perhaps you just need to have a rest for your body.  Treat yourself to a little indulgence and pampering.  You deserve it.  Licensed massage therapists for both therapeutic and Swedish message are available to come to you at the Inn or you can go out to the studio (also located on Noland Road), if you prefer.  We are happy to reserve an appointment for you.
I hope you can see that we take our guests' food and exercise seriously at Silver Heart Inn. Until we see you for your next visit, stay fit and be well!