A cast of characters, a crime, clues, and charcuterie – that's just the beginning of the fun of our Murder Mystery Dinners hosted at our Kansas City Bed and Breakfast in Independence, MO. It's one of the best excuses to get dressed up and hone your acting skills on an exciting night with close friends and family or even a romantic date night. Our murder mystery dinner near Kansas City promises a whole night of intrigue, storytelling, and delicious drinks and snacks.
We've put on hundreds of Murder Mystery Dinners at our Kansas City Bed and Breakfast, and they keep getting more elaborate and suspenseful each time! Each event is unique, following a different theme. These themes could be based on a holiday, a particular location, a historical myth or person, or even a mode of transportation. It might take place in the present or a bygone era of the past.
While you don't have to be a guest at our Kansas City Bed and Breakfast to participate in these exciting Murder Mystery Dinners, it's extra special when you extend your time in our charming small town of Independence and turn your evening into an overnight or a few days away. Silver Heart Inn perfectly blends the elegance of the past with the modern comforts of today—it's the perfect backdrop for relaxing and spending some quality time together. Reserve your room today!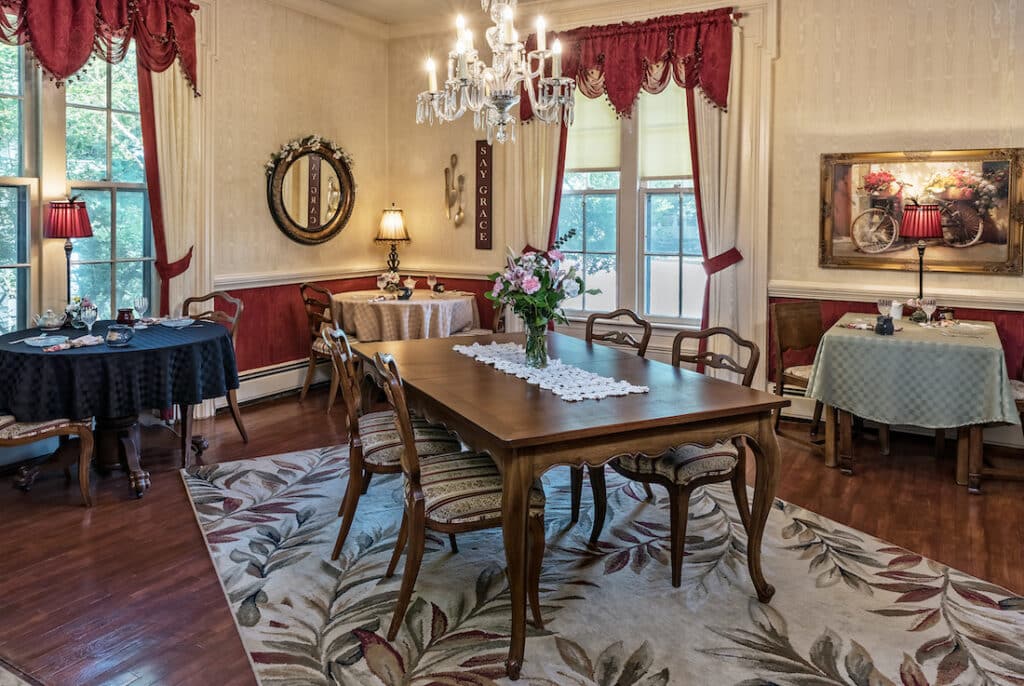 The Best Murder Mystery Dinner near Kansas City
If you've never experienced the thrill of playing a role in a murder mystery dinner, you've been missing out. It's a unique and memorable way to enjoy drinks and snacks with companions and strangers. We've watched relationships become stronger and even seen a few lasting friendships form while solving a mystery together.
Here's what to expect at our Murder Mystery Dinners near Kansas City:
As guests begin to arrive, we'll start with our beautiful charcuterie, cheese, fancy dips, snacks, and desserts. During "cocktail hour" you'll be able to meet the other players. We concoct themed mocktails, but you're more than welcome to bring your own adult beverages.
As our murder mystery dinner near Kansas City progresses, guests will be split into roles. Most will become investigators, trying to solve the crime of the evening. A few, however, will be suspects (you can request this ahead of time!). Suspects will get information about their character a few days before the event, so they can be fully prepared to play their part.
There are eight roles to fill. But no one will know who the culprit is, so everyone will have plenty of fun trying to solve the crime throughout the evening.
Let the games begin! On average, our murder mystery dinners last about three hours, from 6 pm to 9 pm.
For summer months, from June through September, we are offering private murder mysteries for a minimum of ten guests. Price is $50 per person and will include a catered meal. We'll resume our regularly scheduled themed dinners in October.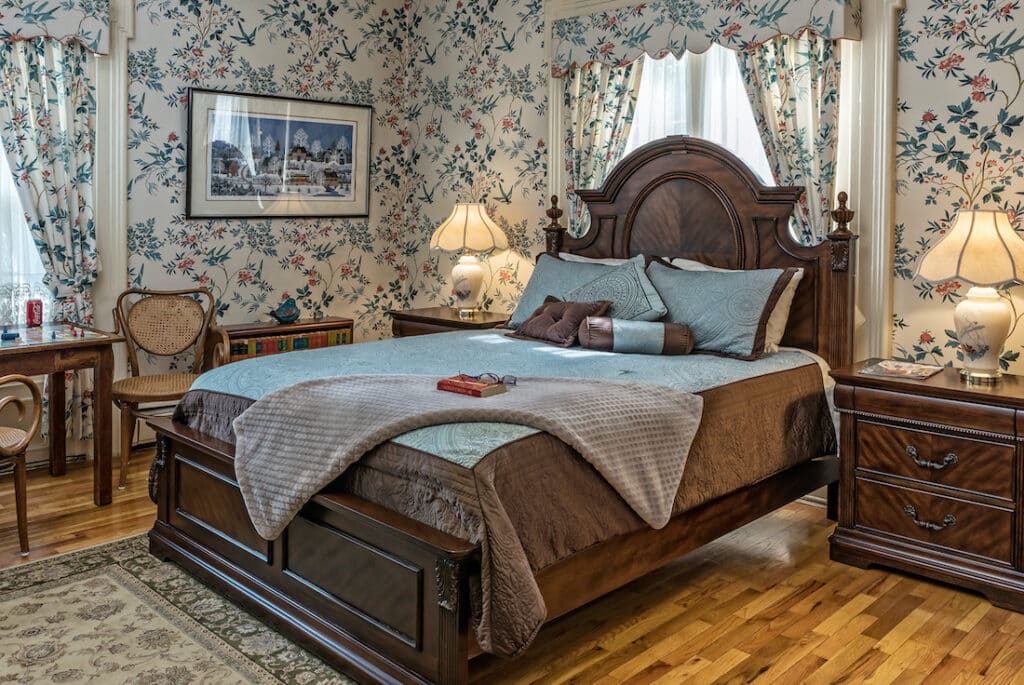 Stay at our Historic Kansas City Bed and Breakfast
For those who genuinely want to immerse themselves in our Murder Mystery Dinner, you'll want to reserve one of our three elegant guest rooms or romantic cottages to stay in afterward at our Kansas City Bed and Breakfast. You can solve the crime, enjoy the pleasant company of other dinner guests, and then relax in your guest room—no need to hurry out and break character!
As an overnight guest, you'll also be treated to a beautiful, homemade breakfast each morning of your stay. We tailor our breakfast menu to the best of what each season offers and include local ingredients whenever possible. Expect dishes like Blueberry Cream Cheese French Toast, Summer Garden Frittata, Savory Garlic Cheddar Biscuits, and much more!
For those heading to our Kansas City Bed and Breakfast for a romantic getaway, you'll find our intimate Inn is perfect for reconnecting, rekindling, and relishing each other's company. Soak in our spa room hot tub, enjoy a glass of wine by the fire, and head out to explore our charming historic town. Your guest room or cottage will await your return for a restful night's sleep and a peaceful time together. Book your room today!