Murder Mysteries in Kansas City & Independence Missouri
Come to this page for information about upcoming murder mysteries at Silver Heart Inn, in the metro Kansas City Bed and Breakfast area.  If you've never been to one of our murder mysteries, here is what to expect.
Note: Murder Mysteries now include a charcuterie board with select appetizers, meat/cheese, fruit, and desserts.  Murder Mysteries start at 6:00 PM, and the price is $30 per person.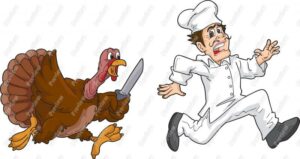 November Murder Mystery:
Gobble, Gobble, Death and Trouble – November 12th, 6:00 PM
His turkey recipe was to die for!
He was world-renowned for his gourmet turkey dinners. Chef Ramsey Gordon attracted food aficionados from everywhere to his fine-dining establishment, "The Golden Gobbler."
Last night, Gordon's restaurant was to have been jam-packed with hungry customers, waiting for the chance to devour his famous main course. Yet, it was not to be. The famished fowl feasters were unexpectedly told the sad news that Gordon was dead, the victim of an unfortunate accident. Yesterday, while lighting his personal oven – the only one he was allowed to use – an explosion rocked the restaurant, putting an untimely end to the career of the duke of the drumstick. The circumstances were suspicious enough that authorities investigated and proclaimed the death to be not an accident, but a well-calculated homicide.
Who would have done away with the wizard of the white meat with Thanksgiving in the air? Only sound logic and expert sleuthing skills will solve the case and ensure that no clues are left over.
 —–
Admission includes:
Participation in Murder Mystery
You can be a suspect!
Charcuterie Board offering at each table to snack on during the event. 
Make it an overnight stay.  Relax in one of our luxurious rooms after solving the mystery. Please call for assistance with this special reservation.
Tickets for the next Mystery are available online

here.
December Murder Mystery:
T'was the Night Before Murder December 17th, 6:00 PM
Murder in an English castle, 1936.
Watch this page for more Kansas City Murder Mysteries, coming soon!