History of the Stone-Gamble Mansion
The Original House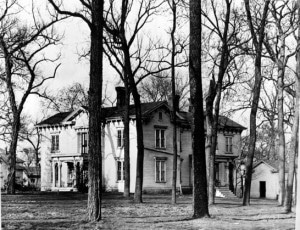 Independence businessman Napolian Stone built the original home about 1856. Stone most likely made his fortune serving the emigrants and wagon trains headed west. The original house consisted of two wings joined like a T, and was placed in the middle of the block bounded by Main Street on the west, what is now South Avenue on the north, Noland Road on the east, and 23rd Street (aka Alton) on the south. Stone's fields and walnut orchards stretched for a half mile east on the other side of Noland. During the Civil War, the house survived The Burning that was the result of the infamous Order Number 11. Besides being within one mile from the limits of the town of Independence (the limit specified in the Order), Stone made a public declaration of his loyalty to the Union. As the entire state of Missouri was occupied and nominally controlled by Union troops, Stone's declaration probably saved the house.
House Split and Moved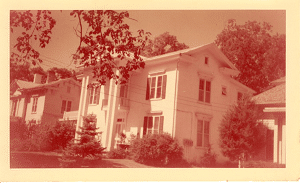 In 1923, the home was owned by Judge George Jennings. Seeing that Noland Road was becoming the major thoroughfare, surpassing Main Street, he had the house split into two houses and moved 300 feet to face Noland. The house to the north (that became our Inn) was the rear wing and side entrance of the original house. The house to the south was made from the forward wing of the home, and became Jennings' residence. It fell into disrepair and was demolished in the early 1960s.
The Gambles
Roy Gamble and his wife Avanell purchased the home in 1943. Roy was a true renaissance man. He manufactured wooden toys to be sold through S.S. Kresge stores, and designed one of the first home freezer units. His biggest success was in building contracting and rental properties, and he used this expertise to remodel and improve the house over the 45 years that he lived there. Avanell was well known as a gracious lady, and she hosted many civic events in the house.
Shirley
After Avanell passed away in 1983, Roy Gamble married Shirley Odneal, an interior decorator. Shirley used the home as her canvas, redecorating with Roy in vibrant colors reminiscent of the Georgian style. We are proud to share her decorating masterwork in many of the rooms to this day. At about the same time, Roy suffered a stroke and was confined to a wheelchair. He was able to once again use his building expertise to add a concrete ramp, install an electric elevator, widen doorways and renovate a bathroom to include a roll-in shower and toilet with handrails.
Silver Heart Inn
Melanie and Perry Johnson purchased the wonderful house in April 2012 and set about configuring it for a Bed & Breakfast. The Silver Heart Inn officially opened with a ribbon-cutting ceremony on 3 April 2013.