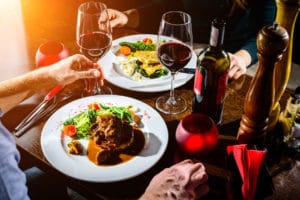 Restaurants in Independence MO invite visitors to relax after seeing all the amazing historical sites in this beautiful city. You can work up quite an appetite touring the home of Harry S. Truman, Vaile Mansion, The Truman Library, the National Frontier Trails Museum and 1859 Jail Marshal's Museum. In fact, many of the best restaurants in Independence are found within the historic Independence Square of the city. This charming town center of Independence offers great dining, shopping and sightseeing as well. It's the historic heart of Independence with a lot of character and stories from the past. 
Continue your journey into the charm of days gone by while staying at the elegant Silver Heart Inn Bed and Breakfast. Guests can choose from four beautifully appointed rooms in our 1856 house or two private cottages. We offer a serene bed and breakfast experience that's close to all the attractions and great restaurants in Independence. Reserve your luxurious guest suite for an unforgettable autumn getaway to lovely Independence.
5 Wonderful Restaurants in Independence 
When looking for great restaurants in Independence, just stroll around Independence Square to find the perfect place. The quaint downtown offers spectacular dining options from fancy to casual. Take a break from exploring the sites while enjoying a relaxing lunch or plan a romantic evening out with your loved one. You'll find just what you're craving at these restaurants in Independence:
More Excellent Restaurants in Independence
Even more wonderful restaurants in Independence can be found around Independence Square. One is not quite a restaurant but an old-fashioned soda fountain shop. Clinton's Soda Fountain dates back to the 1800s and was the location of young Harry Truman's first job. Decades later you can still order his favorite, a butterscotch sundae with chocolate ice cream.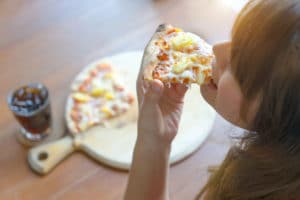 Also not restaurants but serve up great dishes are the two gourmet food trucks found on the square. Mattie's Vegan and Ying's Thai Food offer up tasty options for those looking for something new. For authentic international choices try Rheinland for excellent German cuisine and El Pico for the freshest mexican fare. For a casual night out and quick bite that's still amazing, stop by Square Pizza and Up Dog.
Our guests visit Independence for the rich history and fascinating sightseeing. However they may be surprised at the vast choice of excellent restaurants in Independence. It's just another reason to plan an escape to our beautiful city. Book a romantic getaway at the Silver Heart Inn and Bed and Breakfast this Fall in charming Independence, MO.