The house that became the Silver Heart Inn was originally built about 1856. At that time, medical science was very primitive, and many people relied on home remedies to relieve pain and restore health. For fever, apply hyssop. To purify the air of illness, eucalyptus is called for. Doctors have since confirmed that many of these remedies are effective, and they form the basis of modern pharmaceutical products.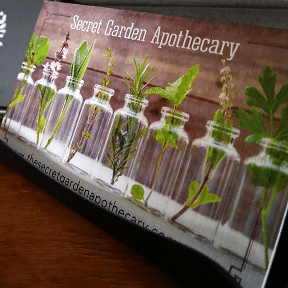 For quite awhile, our daughter Emily has had an interest in herbal remedies, tonics, perfumes and soaps.  For about a year, she has operated The Secret Garden Apothecary out of her home. A longtime Civil War reenactor, she wanted to create remedies and beauty aids authentic to the period that can be purchased by other reenactors.
We found a wonderful way to honor the history of our community and support a family endeavor at the same time. We believed that Emily's business would be a great tie-in with our Inn and its history, so we asked her to move in! The Secret Garden Apothecary can now be found at Silver Heart Inn, in the Library on our ground floor.
Featuring specially formulated remedies, teas, tonics, creams, rubs, essential oils, soaps and other herbal preparations, Emily's products are natural, vegetable-based and are not tested on animals. She has an extensive herbal reference library that you can peruse free of charge, with some books available for purchase. Emily also conducts classes at the Inn, where you can learn how to use essential oils for your health and beauty.
For more information about The Secret Garden Apothecary, contact Emily at 816-391-8464 or Facebook: @thesecretgardenapothecary.