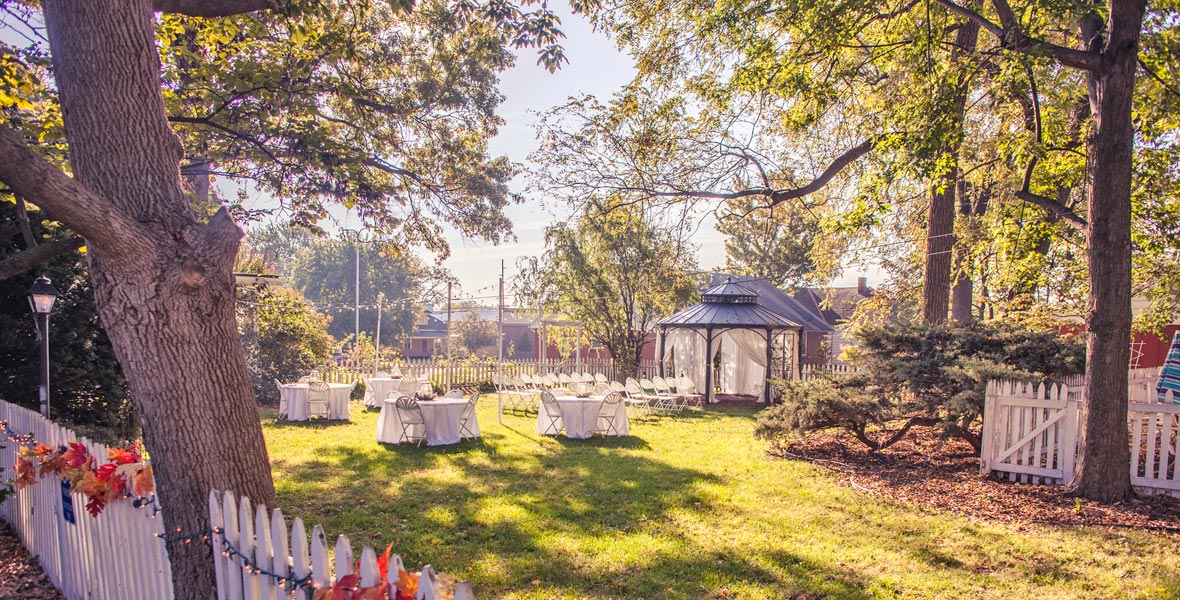 Your wedding venue should be a dream come true on your special day. Everything should run smoothly, and most importantly you should be stress-free. Though that does seem like a tall order on such an important day, we want to help in the process by providing the ultimate place to say "I do".  Located in the smaller and quieter town of Independence, our historic Inn was built in the 1850s and still holds much of its charming characteristics. This is a wedding venue you and your guests are sure to enjoy and have fond memories of!
Whether you are here to celebrate a wedding or just here to relax on a getaway the Silverheart Inn always has your comfort in mind. We have 4 rooms in the house individually decorated and well-appointed. Or choose to stay in one of our 2 secluded and fully equipped cottages. The Inn is within a mile of the historic Independence Square and Truman Library. If you are on the search for the ideal wedding venue or need a much needed weekend away book your stay with us today!
6 Reasons Why This is Your Wedding Venue
Here at Silverheart Inn, we know how special and important your wedding day is. Every detail counts and we create each wedding to the specifications of the bridal couple. Our location, history, and accommodations all work together in building the best day for you, your friends, family. Here are 6 reasons why Silverheart Inn is the perfect wedding venue for you!
You have the option of a lovely outdoor ceremony or a more intimate event indoors. What's better than saying your vows out in nature?! Amongst the sunshine, gentle breezes, and birds you and your loved ones can enjoy the lawn and courtyard with the backdrop of the beautiful mansion. If you need to move the ceremony inside the house has a romantic ambiance all on its own. You'll have to do very little decorating inside as the historic mansion achieves an idyllic atmosphere.
If you are looking for a wedding venue filled with historic charm you've found the right place! The mansion itself has a unique history that will be fun to share with your guests. First built in 1856 the house has been lovingly passed from different owners before it was passed into our care in 2012.
Speaking of accommodations, let your close family and friends stay in the house in our well-appointed rooms all with a different theme. Sure to be a fun and memorable stay for them! You and your new spouse can escape to one of our 2 secluded cottages to give yourself the perfect getaway after a long day.
We want to make this day as unstressful and blissful as possible. That's why we are there from the very beginning stages of planning to the day you say your "I do's". Let us take the weight off your shoulders. We can connect you up to excellent photographers. caterers, and cake makers.
For out of town guests who may need to kill some time before the big event, our wedding venue just happens to be located within a mile of the Historic Independence Square. This area is filled with shopping and dining options for guests who need a little sightseeing and local flavor for their stay here.
We don't just do regular weddings! If you have an elopement planned we provide the same hospitality and put just as much care into your amazing day. We offer an array of packages from just the two of you to groups up to 20 with amenities and add-ons. Just because your getting eloped doesn't mean it can't be special and that you have to miss out on an amazing wedding venue.
Where to Have The Wedding of Your Dreams
At Silverheart Inn we are set up for the event you have dreamed of for a while, and we would like to help you pull off this one-of-a-kind day. After your big day, guests can retreat to one of 4 rooms, all individually decorated with a king or queen-sized bed. Complimentary for all guests is the Silverheart Inn Spa, an open-air spa tub to help let your cares melt away.
Cottage rentals are also available. Cottages include full kitchens, queen-sized beds, as well as cozy and comfortable accommodations. Our Independence Inn is here to welcome you and your family to celebrate the most unique and special days of your life. If you are on the search for a quintessentially romantic wedding venue, look no further! Book your stay at Silverheart Inn today!