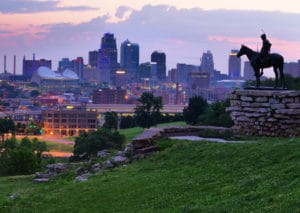 Kansas City has a lot of nicknames: "City of Fountains,"  "Jazz Capital of the World" and "The BBQ Capital of the World." This just shows how many amazing things there are to see, hear and taste in this lively city. Sports fans have their pick of stadiums and a fascinating museum to explore. The music scene here can't be beat, especially for jazz lovers, and the clubs offer an energetic nightlife. The dining choices are vast and varied, from satisfying BBQ to elegant prix-fixe menus. Add in world-class shopping, an impressive performing arts center and an exceptional art museum and you have a city for everyone.
A short drive from Kansas City discover the charming, historic town of Independence Missouri. Guests at the elegant Silver Heart Inn Bed and Breakfast enjoy the tranquil wooded property that's close to all the Kansas City attractions. Consider it your personal private retreat after a day on the town. Reserve your luxurious guest suite and plan a summer escape before the sunny days slip away!
10 Best Attractions in Kansas City
After playing at neighboring Kansas City enjoy the peaceful gardens at the Silver Heart Inn Bed and Breakfast. Relax in the comfort of perfectly appointed guest suites and cottages. Book a summer getaway to quaint Independence with all the nearby action of a big city.