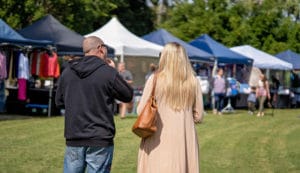 Tour the home of the prominent 19th century artist George Caleb Bingham at the Bingham-Waggoner Estate in Independence, Missouri. Walking through the beautifully preserved rooms paints a vivid portrait of life at that time. Consider planning your visit during the popular Independence Uncorked Winefest annually in  September. The lovely grounds of the estate are transformed into a party showcasing 25 Missouri wineries along with music, food, and arts. The centrally located Silver Heart Inn also offers all the charm of the past combined with modern elegance and comfort. The perfect accommodations for a luxurious Bed and Breakfast experience. Reserve your suite for a wine tasting getaway in historic Independence, Missouri.
The Bingham-Waggoner Estate and 2019 Winefest
Proudly standing on 19 beautiful acres, the Bingham-Waggoner Estate offers visitors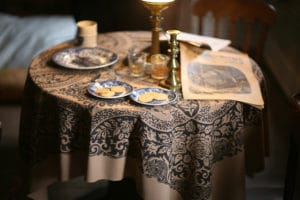 an insider's look into the 19th century upper class of Independence. More than 90% of the furniture, artwork, and other furnishings are original, creating an authentic journey into the past. George Caleb Bingham and his family were the first owners of the home and moved in right before the Civil War. When Order 11 was issued, Bingham painted "Order Number 11" (also known as "Martial Law") in protest. This directive resulted in the displacement of many rural Americans during the Civil War. The painting, illustrating the human cost, became an important symbol of the time. 
In 1870 the Bingham family moved to Kansas City so George could pursue his political career. The Eames family made the mansion their home until the Waggoner family purchased it in the 1890's. Family members continued to live in the home up to 1976. At this point the City of Independence purchased the land that became a museum and community park.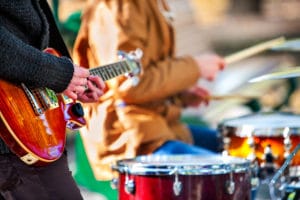 The annual Independence Uncorked Winefest fills the large Bingham-Waggoner Estate grounds with local wineries, artisans, music and food. Spend a wonderful day sampling the local wines, learning more about the wine making process and the beautiful tasting room locations. After sipping a variety of excellent red, white, and fruit wines enjoy delicious food while listening to great live music. Later stroll through the arts and crafts booths for original creations such as paintings, sculptures, jewelry and more.
Return to the tranquil setting at the Silver Heart Inn to relax in our charming courtyard. The perfect place for a glass of your new favorite wine. Book your Winefest vacation to beautiful Independence, Missouri.