Our story began in 2008 with a small silver heart.  It was found on a wintry day the first time that Perry and Melanie went geocaching.  On one side is inscribed "Passion," and the other side, "Romance."  Taken as a memoir of that day, it became very precious to us.  It is on display and we just love telling the story.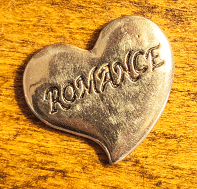 Perry also enjoys sharing the adventure of geocaching with anyone who is interested.  Kansas City is a great location for geocaching, alone or with the family it can be a great day outdoors, fun and educational.
Innkeepers Perry and Melanie Johnson welcome you to historic Independence, Missouri.  Silver Heart Inn is located just off "The Square."  Take in the sights; visit our downtown shopping; soak in the history from the historic trails, the Civil War, or visit the home of president Harry Truman; enjoy the local flavor of Kansas City's barbecue; or just relax in the garden with something delicious to savor.
Perhaps you have a special occasion?  Let us have the privilege of making it unforgettable.  Requests are our specialty.