Are you looking for a fun night out? Then perhaps it's time you join us for the best murder mystery dinner near Kansas City! Over the past several years, we've held more than 30 of these exciting (and murderous) events at our Independence MO Bed and Breakfast!  Every Murder Mystery Dinner near Kansas City features a different theme, so the experience truly is one of a kind.
While you don't have to be a guest at our Bed and Breakfast to participate in these exciting Murder Mystery Dinners, why not extend your night out and join us for a little romantic escape outside of the city? Silver Heart Inn, located in the charming and historic town of Independence, MO, perfectly blends the elegance of a bygone era with the comforts of today and sets the perfect stage for romantic getaways.
Our next murder mystery dinner near Kansas City will be held in January 2022. Get your tickets to this exciting event, and then why not head over to our booking calendar to book one of our guest rooms?  You won't regret it!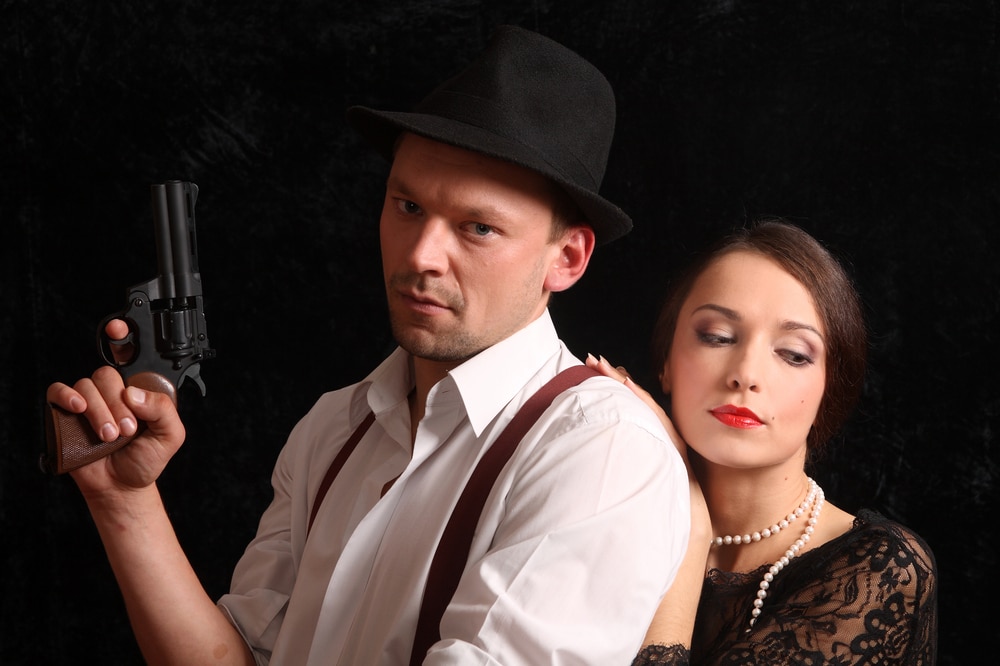 The Best Murder Mystery Dinner Near Kansas City
Are you looking for an excuse to get dressed up for some fun with a group of your best girlfriends, or perhaps an exciting date night?  Our murder mystery dinner near Kansas City promises a full night of intrigue, fun, and a delicious meal.
As we mentioned above, each murder mystery dinner we host near Kansas City features its own unique theme.  This can mean a combination of things, including basing the theme around holidays, a particular location, a mode of transportation, or even historical time periods.  We encourage guests to get dressed up to match the theme, as it just makes the night even more exciting than it already is!
As our murder mystery dinner near Kansas City progresses, guests will be split into roles.  Most will end up being investigators, trying to solve the crime of the evening.  A few, however, will be suspects (you can request this ahead of time!).  Suspects will get information about their character a few days ahead of the event, so they can fully be prepared to play their part. No one will know the actual murder, though, so everyone will have plenty of fun trying to solve the crime throughout the evening.
We'll kick off the evening by introducing the crime and suspects, each of whom will read an introduction from their script. Once we have the lay of the crime scene, we'll pause to enjoy a meal, before being split into investigatory teams and attempting to solve the crime. Once the crime is solved, we'll also do an informal vote for best costume!
January 22nd, 2022 will be the next Murder Mystery Dinner near Kansas City, and it's going to feature New Year's Eve at The Pitz, the city's most famous (or is it infamous?) supper club. Following that will be our February murder mystery dinner, Love Writes a Deadly Verse, held on February 12th.  Click here to purchase tickets for either of these exciting evenings!

Best Place to Stay Near Kansas City
We have a fun evening wrapped up with our murder mystery dinner near Kansas City, but why not extend your trip and spend the night with us in our historic and elegant Bed and Breakfast?  It's one of the best places to stay near Kansas City!
Not only is our Inn exceedingly romantic, but you'll find plenty of romantic things to do nearby, too. At our restful retreat, you will be able to slow down and reconnect to the one you love. You'll get an excellent night's sleep in your guest room, and you'll be treated to a delicious breakfast each morning of your stay.
In between, there are plenty of things to do in the area to keep you as busy (or not) as you want to be.  There's a reason we're the best place to stay near Kansas City! Book your room at our historic Bed and Breakfast today!