Shirley Gamble lovingly decorated the Stone-Gamble Mansion in the 80s.  Here are a few patterns and textures in the house that her decorating complemented.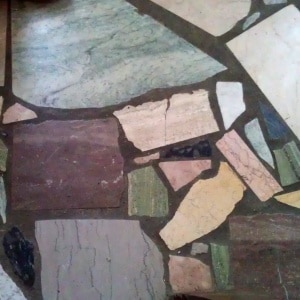 This is the marble floor in the entryway at the front door.  I like to stare at it often and find familiar shapes.  I can make out a yellow Illinois, a red-brown sort-of Oregon and a green marbled Nevada.  (Not to scale, of course)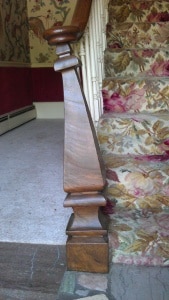 Here is the bottom post of the staircase.  By its rough-hewn look, it could be from the 1850s, when the house was built.  Curiously curved the way it is, it widens the banister and opens the staircase.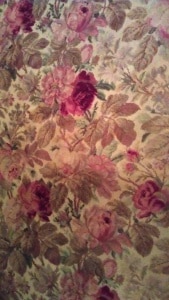 The cabbage Rose (Rosa centifolia) is the primary element in the wool carpet found on most of the ground floor and the stairway.  The carpeting was installed in the mid-1950s and predates Shirley's decorating.  Severely worn in some places after decades of service, this patch hints at the carpet's original beauty.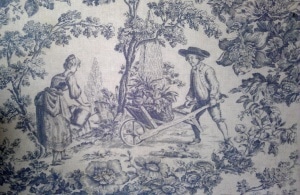 This gardening scene from colonial times is from the couch in the main parlor.  The couch has been in the house since at least the 1970s, but it fit in perfectly with Shirley's decorating.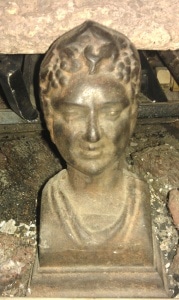 This is the fire dog in the downstairs fireplace. Newspaper articles about the house opine that these may have been original from when the house was built in the 1850s.  Does the head represent a fire sprite?  An angel?  A Greek god?

This is an addition we have made to the home, a mural over the fireplace.  It was painted in May, 2012 by Melanie's mother during a visit from Virginia.  The mural represents the courtship of Margery Stone, the youngest daughter of Napolian B. Stone, builder of the house.  A protective and skeptical Stone looks over Margery, who is admiring a ring on her finger.  To the right, three suitors are present.  Which of them won her heart?  Was it Red, Pork Chop, or Top Hat?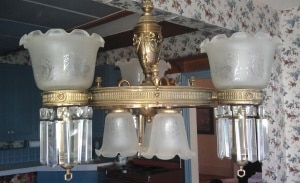 The light fixture in the kitchen appears to be converted from gas.  The gas valves are evident.  The fixture is in the newest addition of the home, from the 1940s or 50s, so if it was in the house before, it was moved from somewhere else.
I like to use many of these pictures as personalized wallpapers for my phone.  They are a constant reminder of the rich heritage of the house.  We welcome you to visit us and discover many more unique patterns and textures on your own.