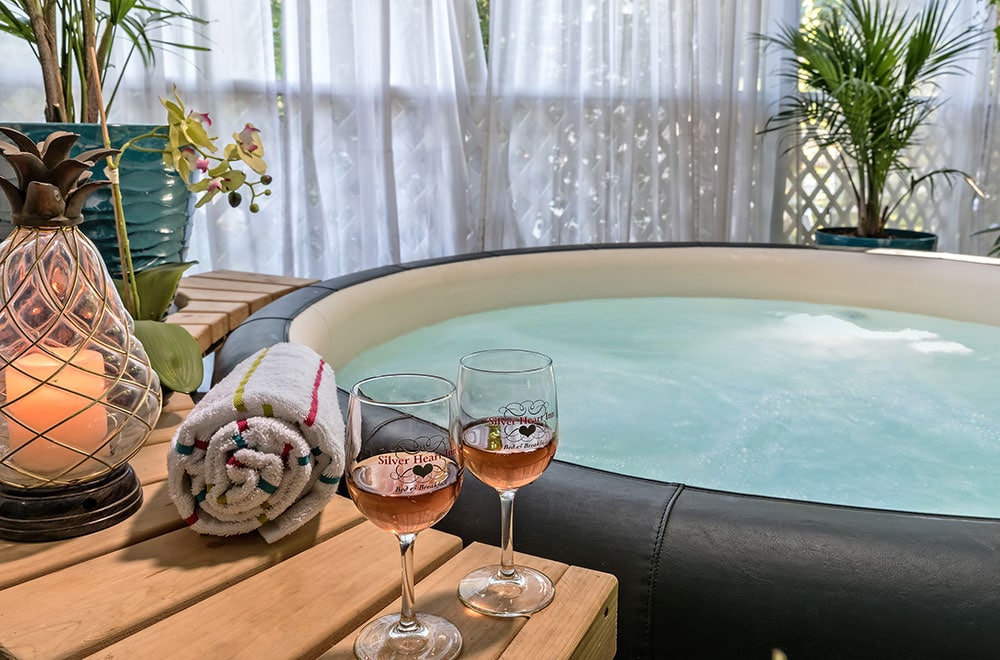 Our Missouri bed and breakfast is the perfect place if you are looking to turn up the romance! Our elegant accommodations are just what you need to reconnect to your sweetheart. Located in the quaint town of Independence, within a mile of the historic square, our elegant inn maintains its historical charm of the original house built in 1856. Many of the architectural details have been preserved and the romantic essence of a bygone era can be felt with all the modern comforts you love.
Let our Missouri bed and breakfast be your perfect romantic getaway! Whether you choose to stay in our historic guest rooms or cozy up to your special someone in one of our two cottages, you are sure to find the romance you are looking for. After a day exploring the historic Independence Square and nearby attractions or after a day in Kansas City you will feel at ease knowing that you have a cozy, comfortable, and beautiful place to unwind at the end of the day. If you want the perfect romantic escape full of historical ambiance and modern comforts, book your stay with us today!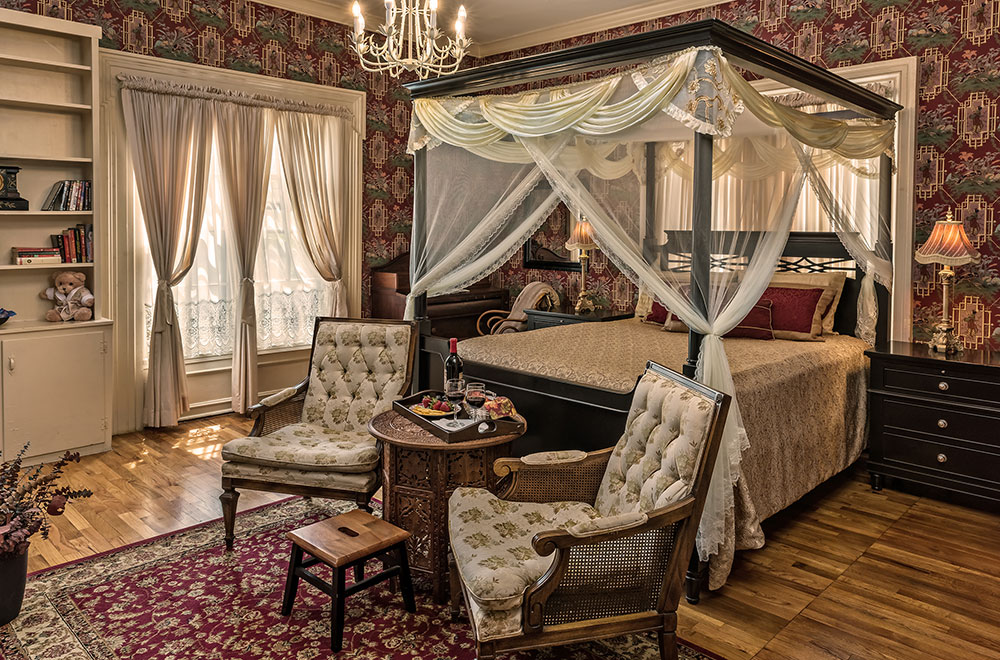 Our Romantic Missouri Bed and Breakfast
Are you looking for a romantic getaway located near world-class attractions, shopping, and restaurants? At our Missouri bed and breakfast, you will discover all the romance you've been craving! Located in the small, quiet, and quaint town of Independence, our historic inn will set the stage for you and your sweetheart to slow down and reconnect to one another.
In our modern lives, we sometimes forget to check in with the ones we love and need a change of pace and scenery to find that spark once again. Here are 5 ways to find romance again at our Missouri bed and breakfast.
Our private guest rooms provide the ultimate retreat for you and your sweetie at our Missouri bed and breakfast. These well-appointed rooms are decorated to reflect the different themes so each space is unique. All the rooms in the house maintain their historical integrity, adding to the ambiance. Modern comforts include a gas or electric fireplace to cozy up to and enjoy a bottle of wine, complimentary streaming on Netflix so you can stay in and watch a movie, and free use of our open-air spa tub to help melt the stress away.
If you are looking for an even more intimate vacation we offer two secluded cottages at our Missouri bed and breakfast that are perfect for spending time with the one you love. Each cottage is equipped with a full kitchen, electric fireplace, laundry facilities, and much more!  Relax in your home away from home here in complete solitude.
What's more romantic than having a delectable breakfast served to you in a stunning dining room?! Seasonal specials are made with care and fresh ingredients. Savor items such as cranberry scones, garden frittatas, and cherry-almond french toast to name a few. You and your partner will share a beautiful meal before heading out for the day.
At our Missouri bed and breakfast, we offer Romance Getaway Packages to help enhance your stay with us. From simple details like rose petals on the bed and a single red rose in a vase, to hand-dipped chocolate strawberries and breakfast in your room, these extra items will make your stay even more memorable and special.
The property of our Missouri bed and breakfast also lends itself to finding that romance you need. Enjoy a slow morning or afternoon by sitting in our serene courtyard. Relax on our screened-in porch with a drink in hand, unwind and discuss the events of the day.
Romantic Things to do near Kansas City
The quiet town of Independence MO may be on the outskirts of Kansas City but there is plenty of opportunities to increase the romance level here! If you are looking to get out and do some romantic things near Kansas City here are a few options.
Have a romantic dinner out on the town! At Ophelia's Restaurant, you'll enjoy items from an eclectic menu in this interesting space that used to be a drugstore. Cafe Verona offers traditional Italian food in a setting filled with artwork and the essence of Italy. Vivilore serves up modern American food that is locally sourced in a unique space that also includes an art gallery and gift shop.
Learning about local history and touring beautiful historical homes is an excellent way for you and your sweetheart to get out for the day. The Bingham Waggoner Estate, Harvey M. Vaile Mansion, and the Harry S. Truman National Historic Site all offer tours of these gorgeous examples of American architecture.
Sample some delectable wine and hard cider at Top Hat Winery. This family-owned winery in the historic Independence Square offers a tasting room as well as a BBQ menu.
The Best Romantic Lodging Near Kansas City
After a day spent exploring the local area you'll come back to a place where you can rest in the casual elegance of our historic Missouri bed and breakfast. The ambiance of our inn near Kansas City will set the tone for romance. Settle into your cozy and beautifully appointed guest room where you can truly unwind and relax. With amenities such as electric fireplaces, in-room snacks, streaming Netflix, and free use of the luxurious day spa you and your loved one may never want to leave! If you want the perfect romantic getaway that you and your partner have been in search of, book your stay with us today!