On your next visit, there are so many things to do in Independence, MO! One of our favorite activities is touring the 1852 Bingham-Waggoner Estate, a historic 26-room mansion sitting on 19 beautiful acres in the heart of our charming small town open for tours and events initially owned by the prominent 19th-century artist George Caleb Bingham. Independence is known for its historic home tours, the Harry Truman Presidential Library, and the Frontier Trails Museum—visiting this area is a history buff's dream! 
On a tour of the Bingham-Waggoner Estate, one of the most impressive elements is the collection of original furniture, artwork, and other furnishings—about 90% of the interior decor is authentic and antiques from the time when Bingham lived here. Winter is such a great time to visit the Bingham-Waggoner Estate for the unique holiday decorations. Each room is decked out to the nines with festive lights, bows, and beautiful Christmas trees. 
Before you start filling your itinerary with all the best things to do in Independence this winter, you'll want to secure your lodging, and our Kansas City Bed and Breakfast is one of the best places to stay. Our beautifully restored 1850s Antebellum mansion takes you back in time with four elegantly appointed guest rooms and two fully equipped cottages ideal for romantic getaways, couples retreats, and extended stays. A home-cooked and wholesome breakfast is included with your visit and the best way to start your day exploring the fascinating history of Independence. Book your lodging today!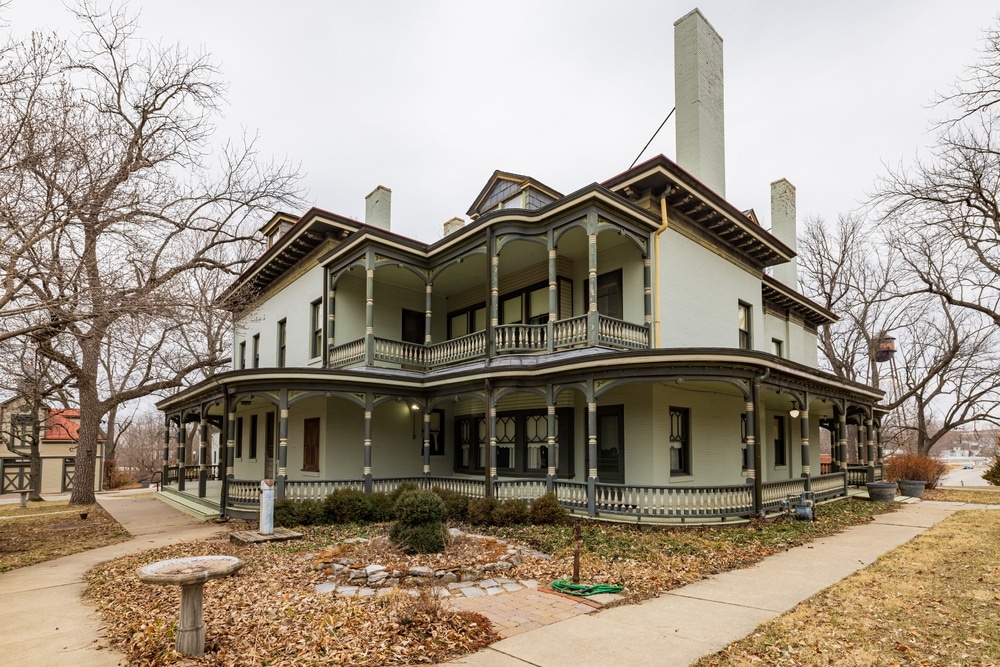 Visit the Bingham-Waggoner Estate & More Things to Do
While adding a visit to the Bingham-Waggoner Estate is a must any time you join us in this neck of the woods, there are so many exciting things to do in Independence, MO, as well! Whether you're interested in presidential history and stories of the first Frontier or enjoy elegant meals out on the town and strolling hand in hand through our historic streets—there's something for everyone here. 
Here are the best things to do in Independence, MO, on your next getaway this winter: 
Holiday Tours at the Bingham-Waggoner Estate: Nestled in the heart of Independence, Missouri, lies a picturesque 19+ acre estate worth exploring. The restored 26-room mansion, witness to the nation's expansion, welcomes you to discover its rich history. Perched at the starting point of the Santa Fe, Oregon, and California Trails, the Bingham-Waggoner Estate was once home to an artist, politician, and statesman George Caleb Bingham. Later occupied by the William Waggoner family for 97 years, the mansion presents timeless lessons in history and the Victorian Era. Its exquisite finery and ornamental designs of that time are worth appreciating.
Explore the Vaile Mansion: If the idea of touring the Bingham-Waggoner Estate piques your interest, this stunning Gothic-inspired mansion, built in 1881, is another historic home tour in Independence not to miss. This location also puts on quite a show in the wintertime with beautiful decor and festivities. The Vaile Mansion was built for a prominent businessman, Harvey M. Vaile, and it is a lovely reminder of this historic city's past today.
The Harry S. Truman Presidential Library & Museum: Holding the number one spot on TripAdvisor for best things to do in Independence, MO, the exhibits at this library and museum chronicle the former President's private life and political career, and highlight big decisions made during his time as a politician. You can also visit the Harry S. Truman Home, a National Historic Site that was the longtime home of the former President.
Learn More at the National Frontier Trails Museum: This history museum, interpretive center, and research library tells the story of America's pioneering people blazing across the country on the Oregon, Santa Fe, and California trails. It highlights the routes and explorers' impact on American history with covered wagons, artifacts, and personal experiences. 
Grab an Elegant Dinner at the Best Restaurants in Independence: After touring the Bingham-Waggoner Estate, there's no shortage of fantastic dining opportunities in Independence. For those looking for romance, Ophelia's is a perfect bet for date night, but you'll also find classic Italian, fantastic barbecue, and charming cafes for lunch and dinner. Read more about the best restaurants in Independence, MO, on our blog! 
Midwest Geneology Center: This building provides public access to thousands of on-site materials and free resources for researching family history. It is one of the most memorable things to do in Independence, MO!
Bundle Up and Stroll at George Owens State Park: Explore the stunning 86 acres of forest, lakes, hiking trails, and wildlife at this local gathering space in Independence. Explore the DeWitt Center and tour the exhibits for all ages, a pond display, and four large aquariums.

Hit the Little Blue Trace Trail: This easily navigated crushed-limestone and paved path follows the Little Blue River for about 15 miles. It passes by meadows, forests, and farmland. This is a popular route for cyclists and runners. 
If you'd like more information on visiting the Bingham-Waggoner Estate or any of these activities in Independence, feel free to ask your innkeepers at the Silver Heart Inn. 
Romantic Lodging at our Kansas City Bed and Breakfast
The Silver Heart Inn, one of the top-rated Kansas City Bed and Breakfasts, has everything needed for the perfect romantic getaway this winter. All the modern comforts come together for a restful and peaceful retreat. We have four beautifully appointed rooms, each with its own unique theme, rich decor, and luxurious amenities. Additionally, we have two detached cottages that offer guests maximum privacy with their own kitchen and laundry in the most charming of settings! It is the ideal place to reconnect and spend some quality time with your partner. 
Each morning, we'll treat you to a decadent and seasonal breakfast! It's such a perk for choosing our Kansas City Bed and Breakfast—as you can see from our 250 five-star reviews on TripAdvisor, our past guests often call to our excellent morning meals that genuinely added to the success of their vacations. We're also known for our warm and friendly service—you'll feel less like you're having an impersonal hotel stay and much more like you're visiting a distant family member who welcomes you with open arms. 
As you head out to explore all the best things to do in Independence, MO, including the Bingham-Waggoner Estate, you'll love knowing that our historic Kansas City Bed and Breakfast is awaiting your return. We can't wait to host you; check out our upcoming winter availability and book your lodging today!