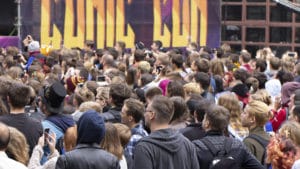 The Kansas City Comic Con attracts thousands of fans to the city every March and it's only growing in size each year. The popularity of the event attracts more and more talent, from artists to writers and actors to directors. Comic content lovers thrill at the chance to meet their favorite comic creators or seeing the stars of the hottest movie. Treasure hunters search for rare comic editions, original art, and other collectables. Kansas City Comic Con also brings the community together in a wonderful shared experience with panel discussions, meetups and cosplay competitions. It's a celebration of great art, stories and all the creators and fans that make it possible.
However, Kansas City Comic Con can also be crowded and exhausting. Each year more and more people attend, making the convention larger and sometimes overwhelming.
The show floors become jammed and long lines queue up before each headliner panel. This influx of fans also makes it hard to find accommodations at any hotel during the Kansas City Comic Con weekend. Not to mention that Kansas City restaurants, bars and breweries are packed, with long waits.
Find the perfect balance to the excitement of Kansas City Comic Con by staying at a relaxing nearby Bed and Breakfast. The Silver Heart Inn has everything needed for a serene getaway. Located in charming Independence, Missouri we're only a 20 minute drive away from Kansas City. The lovely historic town offers a fun town center with pubs, breweries, great restaurants and even a bowling alley. Spend your evenings away from the overflowing Kansas City restaurants. Add romance to your Kansas City Comic Con getaway. Reserve your elegant, spacious guest suite at the Silver Heart Inn for an extra special Kansas City Comic Con experience.
3 Best Reasons to Plan a Kansas City Comic Con Stay in Independence, MO
Most Kansas City Comic Con attendees assume they will stay at a generic hotel in the city. However the charming little city of Independence, MO is an easy 20 minute drive away from the center of Kansas City. Simply purchase your Kansas City Comic Con parking in advance and you'll be all set for the convention! Upgrade your Kansas City Comic Con weekend by staying at the beautiful Silver Heart Inn:
The Bed and Breakfast Experience – A charming B&B offers the peace, quiet and superior service not found at city hotels. Not only will you wake up to a gourmet breakfast each morning but relax in a generous suite with wonderful amenities. For even more privacy, reserve one of our charming cottages with full kitchens and laundry facilities. Return to the Kansas City Comic Con each morning rested, refreshed and ready for another exciting day.
Excellent Dining and Entertainment – Independence may have small town charm but there's plenty to do at night. Skip all the overcrowded Kansas City restaurants and enjoy a relaxing meal at a wonderful Independence restaurant

. The walkable town center has great shops, breweries, pubs and even a bowling alley to enjoy. 

Explore the Rich History – Why not extend your stay after the Kansas City Comic Con is done and explore the many historical sites and tours in Independence, MO? Step into the modest, graceful home of president Harry S Truman. Learn about his early years, time as president and retirement in his hometown of Independence on the

The Truman Home

tours. While the

Bingham-Waggoner Estate

and

Vaile Mansion

 offer fascinating tours of perfectly restored historic homes. 
Make this year's Kansas City Comic Con the most memorable and add a romantic stay at the Silver Heart Inn. Unwind in a serene setting after an exciting day at the convention and discover all that Independence has to offer. Book your spacious guest suite or charming cottage with us for the best Kansas City Comic Con vacation.