On your wedding day, your venue should be perfect, your day as stress-free as possible, and your event unforgettable! At the Silver Heart Inn, one of the best wedding venues in Missouri, we understand that it can be overwhelming to plan these significant life events, so we want to help by offering an exceptional place to say your vows. Our historic Kansas City Bed and Breakfast, located in the quaint town of Independence, was constructed in the 1850s and has been fully restored to its original glory. We know that you and your guests will cherish the memories of your big day, and we can help make your dreams come true. 
We think of every detail when planning an event to match the specifications of the bridal couple. Our location, history, and accommodations all work together to build the best day for you, your friends, and your family. Whether you're looking to elope in Kansas City or seeking a larger elegant affair, our space can accommodate events of up to 20 guests; it's the perfect intimate space for your closest family and friends. Another reason the Silver Heart Inn is one of the best wedding venues in Missouri is our on-site guest rooms, included in our wedding package.
No need to search for hotel rooms for your bridal party or closest family members, as we have four guest suites and two cottages available. Of course, the happy newlyweds will have our most romantic suite all themselves to spend their first night together as a married couple. Bonus, we'll treat you to a beautiful homemade breakfast each morning of your stay; one less thing to worry about when arranging everyone's schedules. Let us help you plan the best day of your life at our Kansas City Bed and Breakfast; book your consultation today!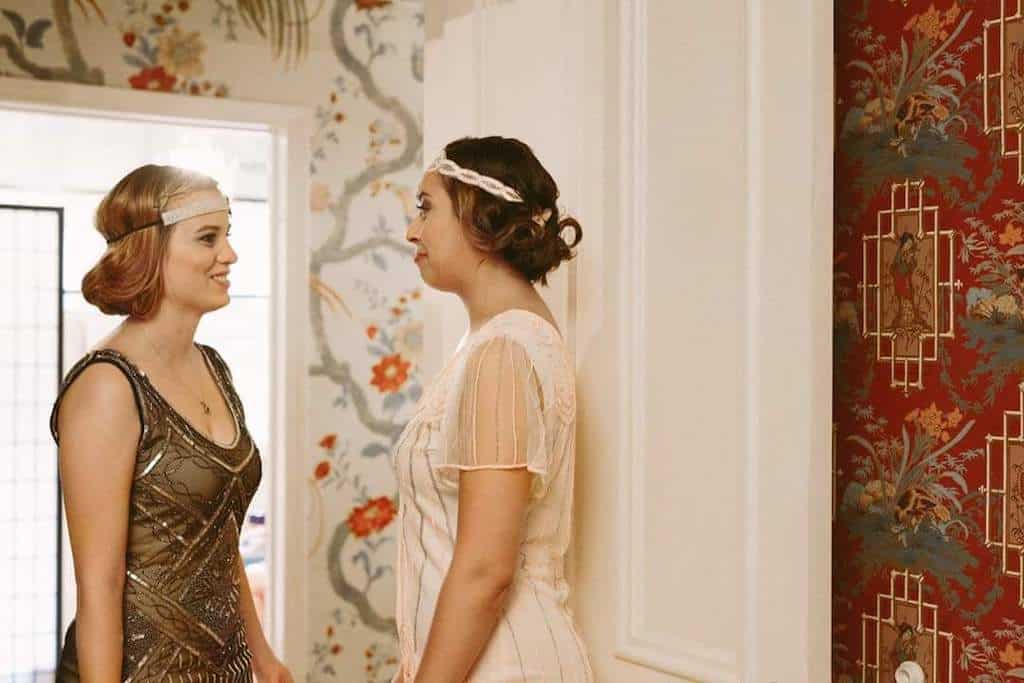 Wedding Venues in Missouri: Get Married at Silver Heart Inn
From the moment you step foot on our property, you'll see why our location, history, and accommodations work together to create the best space to host your special day. Our historic home, antique decor, and welcoming hospitality will impress your guests. Not all the wedding venues in Missouri have this wow factor! 
First, you'll want to contact us and tell us a little bit more about you and your future spouse and what you envision for your wedding day. In this consultation, you'll know what we can offer and how it will all be achieved. We're also one of the most inexpensive wedding venues in Missouri, but we don't compromise on luxury—we believe that even those on a smaller budget should also get the wedding of their dreams.
Here are six things to know about booking your wedding at our Kansas City Bed and Breakfast: 
You can choose between a picturesque outdoor ceremony or a cozy indoor event. There's nothing quite like exchanging vows surrounded by nature, with the sun shining, a gentle breeze blowing, and birds chirping. The lawn and courtyard offer a stunning backdrop, with the magnificent mansion adding to the charm. Should you need to move indoors, the house exudes a romantic ambiance that requires minimal decoration thanks to its historic charm.
As one of the best wedding venues in Missouri, the rich history of our historic mansion always delights guests. The estate, originally built in 1856, has had many owners throughout its life, but in 2012 it was lovingly converted into a bed & breakfast and event space. You'll love discovering the restored architectural details and feel the sense of stepping back in time in our shared areas and guest rooms. 
Speaking of accommodations, we have four well-appointed rooms all with a different theme in the main house. The most luxurious is perhaps the Margery Stone Room—perfect for your wedding night—with a king-size bed, electric fireplace, and spacious en suite bath. Or, if you prefer, the happy couple can escape to one of our two secluded cottages to give themselves the perfect getaway and even stay on for their honeymoon. 
As you begin to search the wedding venues in Missouri, you'll see that we aim to ensure that your special day is stress-free and joyful. That's why we're with you every step, from the initial planning stages to finally saying, "I do." Let us relieve the burden of planning by connecting you with top-notch photographers, caterers, and cake makers—this will all happen in our initial consultation, so we can get the ball rolling as quickly as you like. 
Our location just on the edge of the Kansas City metro area is perfect! You're set back from the hustle and bustle of the city, but an easy ride into town for adventures, dining, and shopping. If your bridal and groom's parties are in town early, there are so many exciting things to do in Independence, as well as Kansas City. 
We can host a diverse array of events, from intimate micro weddings just for two to larger weddings with a guest list of up to 20 people. As one of the best wedding venues in Missouri, we feel like this is the best size event for the happy couple to shine and be the center of attention; after all, this is their big day! Continue reading here if you're hoping to elope in Kansas City.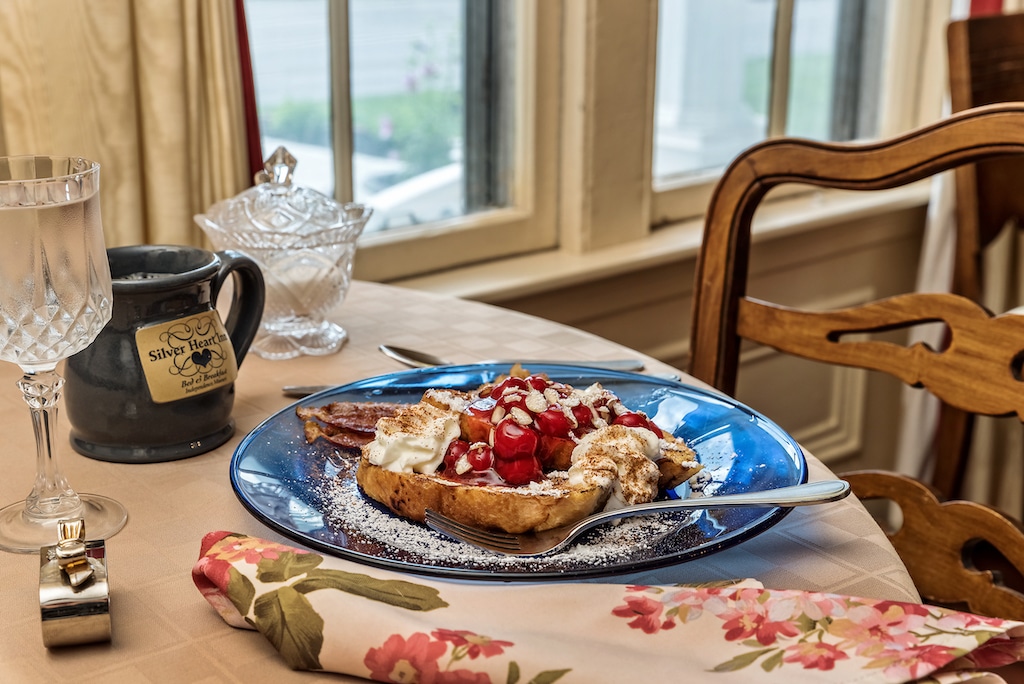 Extra Special Perks of our Kansas City Bed and Breakfast
While staying with us pre and post-nuptials, you'll quickly see that our favorite meal of the day is breakfast. You won't find cookie-cutter morning meals at our Kansas City Bed and Breakfast; we like to be inventive with our culinary skills, use local ingredients from around the Kansas City area, and tailor our breakfast menu to the best each season offers. This gives our guests the freshest ingredients and is the best way to start your day! 
As one of the best wedding venues in Missouri, we really have thought of everything, and this includes some romantic add-ons for your wedding night, honeymoon, or couples getaway. From rose petals, chocolate-dipped strawberries, and a late check out to full bouquets, wine tastings, and couple's in-room massages—these add-ons are what romantic getaways should be all about. You'll also find our on-site spa room with a luxurious hot tub to let all the stress melt away in the jetted waters. 
We can't wait to help you plan your dream wedding or elopement—from the first step to the final moment when your guests see you off. Our beautiful Kansas City Bed and Breakfast is one of the best wedding venues in Missouri, and we believe that you'll agree once you've spoken with us, taken a tour, and picked your lodging accommodations. Start planning your event today and book a consultation at one of the best wedding venues in Missouri, the Silver Heart Inn, today!